Trommel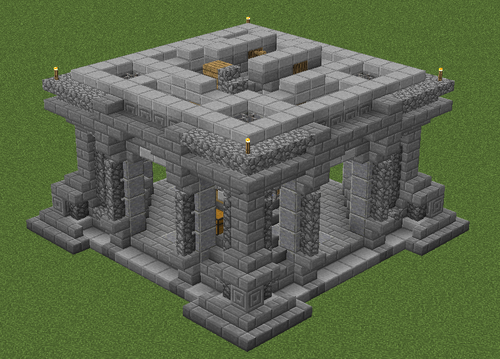 Structure Information
Chunk Area:
1x1
Required Technology:
Mining
Build Cost:
5,000 Coins
Base Upkeep Cost Per Day:
1,000 Coins
Hammer Cost:
1,200
Civ Points:
1,500
Hit Points:
200
Limit Per Town:
Unlimited
Special:
Stone to Resource Conversion
How does the Trommel work?
[
edit
|
edit source
]
The Trommel is a unique structure that compliments mining by allowing miners to dump their excess stones or obsidian into the Trommel to screen it for precious minerals that may have been missed. The Trommel consumes the stones and in return has a small chance of generating Iron, Gold, Diamond, Emeralds, Redstone and their ores.. The Trommel produces Dirt as a byproduct. Both the Dirt and the precious minerals are stored in a single double chest. If the storage chest becomes full the structure will jam and stop working until the storage chest is cleared. It is important that the Trommel's storage chest is emptied often or it will not function.
The Trommel is very simple to operate, simply put stone into the input chest. The stone will then start processing and generating dirt and sometimes, if you're lucky, precious minerals and metals.
| Level | Tech required | Price of Upgrading | Reroll Chance |
| --- | --- | --- | --- |
| 1 | Mining | 0 Coins | 10% |
| 2 | Automation | 5000 Coins | 20% |
| 3 | Scholarship | 10000 Coins | 30% |
| 4 | Machinery | 25000 Coins | 40% |
| 5 | Engineering | 50000 Coins | 50% |
Each level will increase chance of rerolling dirt into another mats by 10% if it roll dirt again it wont chain and try again. Rerolled material that arent dirt are doubled so you can get 2 diamonds per cobble with enough luck.
There are several other bonuses that may affect a Trommel, such as civics, and Trade Goods, seek them out to maximize your input.
Trommel rates are also directly affected by your choice in Government, so think your choices through.
| Type of Stone | Iron Ore | Iron Ingot | Gold Ore | Gold Ingot | Redstone | Redstone Ore | Diamond | Diamond Ore | Emerald | Emerald Ore |
| --- | --- | --- | --- | --- | --- | --- | --- | --- | --- | --- |
| Cobblestone | 0.5% | 1.5% | 0.35% | 1.3% | 2.15% | 0.7% | 0.2% | 0.075% | 0.1% | 0.035% |
| Stone | 0.5% | 1.5% | 0.35% | 1.3% | 2.15% | 0.7% | 0.2% | 0.075% | 0.1% | 0.035% |
| Granite | 0.583% | 1.75% | 0.4167% | 1.5% | 2.5% | 0.833% | 0.25% | 0.0833% | 0.12% | 0.04% |
| Andesite | 0.583% | 1.75% | 0.4167% | 1.5% | 2.5% | 0.833% | 0.25% | 0.0833% | 0.12% | 0.04% |
| Diorite | 0.583% | 1.75% | 0.4167% | 1.5% | 2.5% | 0.833% | 0.25% | 0.0833% | 0.12% | 0.04% |
| Sandstone | 0.324% | 0.972% | 0.232% | 0.833% | 1.39% | 0.463% | 0.139% | 0.046% | 0.067% | 0.022% |
| Hardened/Stained Clay | 0.35% | 1.05% | 0.25% | 0.9% | 1.5% | 0.5% | 0.15% | 0.05% | 0.072% | 0.024% |
| Obsidian | 2.19% | 6.56% | 1.56% | 5.6% | 9.37% | 3.13% | 0.938% | 0.313% | 0.45% | 0.15% |